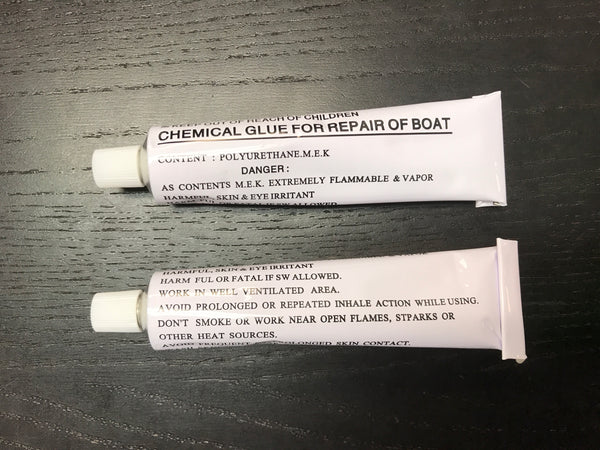 Sold Out
This is a replacement part for the glue in your repair kit.  Only one (1) tube of glue in this product.
This glue can be used for seam repair and deck pad attachment (like when your deck pad begins to peel.
KEEP OUT OF REACH OF CHILDREN.
CHEMICAL GLUE FOR REPAIR.
CONTENT: Polyurethane MEK
DANGER:  as contents MEK is extremely flammable and vapor is harmful, skin and eye irritant is possible.
Harmful or fatal if swallowed.
Work in a well ventilate area.
Avoid prolonged or repeated inhalation.
Don't smoke or work near open flames, sparks or other heat sources.
Avoid frequent or prolonged skin contact.
Was skin with soap and water.
If eyes are affected, flush immediately with lots of water.  Call a doctor immediately if swallowed.  Do not induce vomiting.
KEEP OUT OF REACH OF CHILDREN.
Recently we have been using POOL DOCTOR, a "super adhesive for underwater application."  It is 100% non-toxic and uses eco materials.  It comes in clear or white, usually in a 1 oz tube. http://www.underwatergluecalifornia.com/product/pool-doctor/ 

There are stronger, though more toxic, adhesives you can purchase from West Marine or a local boating/marine store.
Shipping cost - yes, we recognize that the shipping cost may be more than the product.